Today we met with about 80 Jimdo Evangelists, Bloggers and journalists at the traditional japanese place Chionsha.
Teppei and us three did a presentations about the history of Jimdo and what's coming next. We will release some news in Japan at the official press-conference in Tokio this monday, so stay tuned.
After that we had the chance to talk to the Jimdo Users and that was really a great experience. It's really weird to fly to the other side of the globe to a country where you don't understand a word - but are talking to people who really love the product you created. Experiences like today are great reassurance of have gone internationally early and keep on following this path.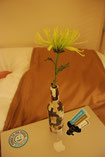 Artist Sota Maruta
Sota gave us this great vase designed with Jimdo! He said that he wanted to thank us because he has never been able to create a website until he got to know Jimdo. Thanks Sota!
Yasuyuki Kanaoka
Yasuyuki is web director at an international MBA school in Kyoto. He created the official website for the MBA school with Jimdo and it really looks great! We will try to send some german students to the MBA school, because there are people from 13 countries but no one from Germany.